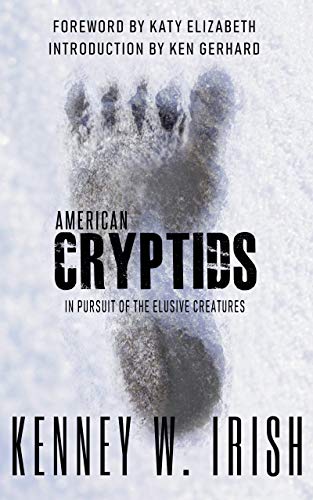 Join me as I chat with Kenney Irish about his works and his future projects!
Kenney W. Irish AKA "The Cryptopunkologist," is an author, hardcore/punk musician and sales/marketing professional. Originally from the northern parts of Vermont, he has recently re-located to the beautiful Adirondacks area of upstate New York. He has a lifelong love of folklore, legends, monsters, and U.F.O stories. He has regularly attended and spoke at writers groups, and various other platforms across the country. He has a passion for writing young readers chapter books, and released two publications to date. The most recent with DMP, generating high volume sales and distribution. In late 2020, he signed with BEYOND THE FRAY PUBLISHING and in March of 2021 released "AMERICAN CRYPTIDS" In Pursuit of the Elusive Creatures. This publication became a #1 bestseller on Amazon and has out performed all other material in it's genre.
He's also an explorer for the New York Bigfoot Society. The Cryptopunk has appeared on numerous radio shows and podcasts such as Coast to Coast AM, Midnight FM and The Leak Project Network. He has recently filmed and will be appearing on an upcoming national TV show for The Travel Channel. You can also catch him as "co-host" for the NYBS radio show along side Gary Robusto.
https://www.amazon.com/dp/B08Y3DMDWM/ref=sr_1_1?dchild=1&qid=1614947126&refinements=p_27%3AKenney%20W.%20Irish&s=digital-text&sr=1-1&text=Kenney%20W.%20Irish&fbclid=IwAR0CQgTGHe2H6wJ-O9ptGHyeXL3FxQaEluDTAg1_8B5MzDqSHHItG6guQlI
https://www.amazon.com/Stanley-Ryker-Bigfoot-Run-Around/dp/1660880742?fbclid=IwAR2aYXtFupsqW6HWyZ_RxYsz-E6nTSPp2cpG5yTSEWoriTJOHuOnmRUVyO0
https://l.facebook.com/l.php?u=http%3A%2F%2F
www.Darkmoonpress.com%2F%3Ffbclid%3DIwAR1V4a0yMnlsWMxVLhx-Z2C-twyewdPsznVHzfSuN5wXvtKqtjqvyGwp-fg&h=AT20htpdbas3T_4kv8EZKkjZz7McnWJq-Ey0JgV3s1-ap0_gLdmKu2axsNxLw1aY1GWDnNt-VnGscOPH5d6qlCJJ7lzzfCruiLds7RmbTpGrMNpvbiGDxLmnd3KsIPnaHuEQ4Qo0Kyn0PXxGUL3c8A